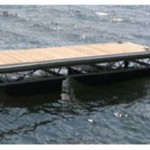 Boat docks need to float, and they need to last. Ace Floats are the top-of-the-line produced floating drums for docks. The Ace floats we use and sell have a minimum wall thickness of .125", meaning they're thicker than the competition, which ultimately leads to a longer lasting product. Ace Floats is currently the only manufacturer that offers that. That's just the minimum; the nominal is .15". Don't choose a cheaper product.  Over time, a lesser product will deteriorate over time and need a premature replacement and therefore, cost a lot more to replace.  The floatation is the foundation of your dock. If the foundation goes bad, the dock will fail.
To prevent leakage and separation caused by weak joints, Ace Floats are smartly designed with a one-piece seamless shell plastic design. Nothing gets past the drum wall, made of virgin polyethylene with ultraviolet inhibitors. The water can be filled with oil, gas, fish, salt and more, and Ace Floats will be protected from all of them, so dock owners don't have to worry about problems with their floats.
With their flat top shell design, Ace Floats attach easily to any dock frame. They come with molded-in mounting slots. Inside the drum, the floats are filled with void-free expanded polystyrene foam, steam pressured for a snug fit. Even if the outside shell becomes punctured, Ace Floats won't crack or shatter. In fact, the foam interior will keep the unit floating.
Ace Floats pass the Falling Dart Impact Test, even when tested in -20°F testing temperatures, validating that virgin grade resin is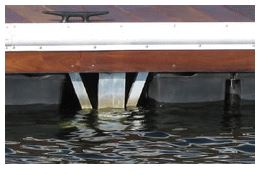 being used, and the molding process has been properly completed. They also pass the 7-Day Hunt Water Absorption Test, and meet or exceed the test standard of 3 lbs. per cubic foot. And, for good measure, Ace Floats also meet or exceed the US Army Corp of Engineers standards under Regulation 33CFR Part 327.30.
Den Hartog Industries manufactures Ace Floats. Original owners receive a 15-year Float Drum Warranty.
If you're interested in learning more, or purchasing Ace Floats for your boat dock(s), call TechniDock Inc. today at 1-800-55-DOCKS.